You can set an Expiration date, to expire at the set date. AXEL Go will send 3 reminders through the email account registered for AXEL Go.
The first reminder is sent 7 days before the file expiration date.
The second reminder is sent 3 days before the file expiration date.
You receive a Final Reminder 24 hours before the expiration date.
You can extend the file expiration date before the file is expired by clicking on the "…" next to the file in My Shares and choosing Edit from the context menu.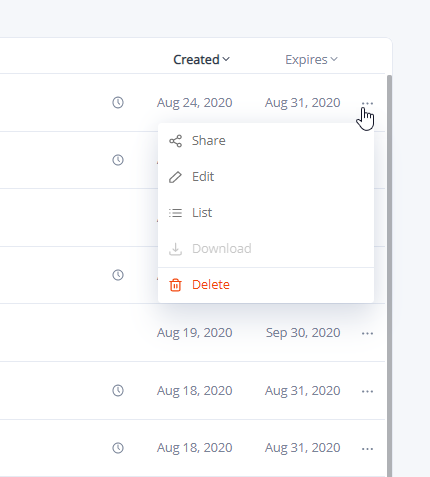 You need to use AXEL Tokens to fuel the increased share time when changing the expiration date. The amount required is calculated according to item size and the new sharing duration. It does not matter if the file is uploaded from a device or imported from the user's storage. The content will be stored on our decentralized cloud nodes. The amount of AXEL Tokens required for storage is currently:
0.30 AXEL Token / GB / Month without encryption
0.31 AXEL Token / GB / Month with encryption
You will now receive a reminder email on the expiry date for all the shares that you create, i.e. Regular share, private share and secure fetch.
The email will be sent 7, 3 and 1 day before the expiration of the shared link
Email will consist of the link that will allow you to change the expiry date if you wish to change also on clicking the link you can view the contents of the share on bowser