You can create new shares from your My Shares or Storage folder on our web and mobile apps. Using the My Shares method does not require you to store the files before sharing.
Desktop users have the ability to directly share from their PC/Laptop.
Note: Each share under the Basic account has 10 MB upload limit, whereas there are is no limit with a Premium plan.
On Web app
Drag-and-drop the file you wish to share into the My Shares window
Add any notes and set the expiration date (This date informs our Pinning Service to keep the file available until the duration has passed)
Set the download permissions for the content
Enable encryption if you need the extra security and choose your password
Select PIN AND SHARE
Unwanted files can be removed before Pinning by clicking on the X next to the document.
The amount of Fuel tokens required to share is calculated based on the size of the file, the duration of the share, and whether you encrypted it. Ensure you have enough fuel tokens before you PIN AND SHARE.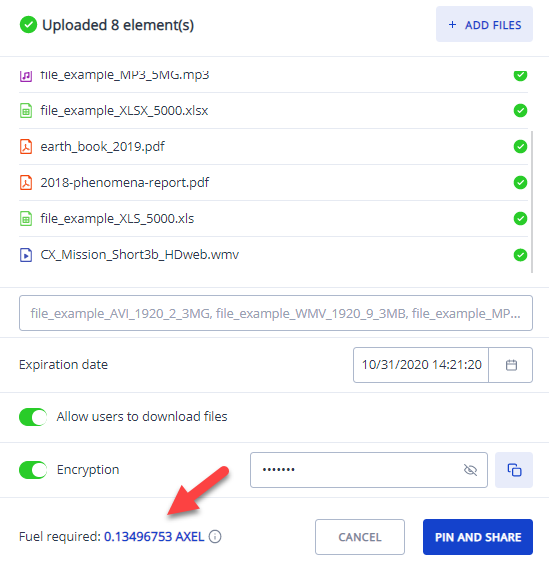 Click the copy icon to store your encrypted password in the Clipboard. (Store it in a safe place)
Click on PIN AND SHARE.
Click COPY LINK, then paste and send it to whomever you'd like.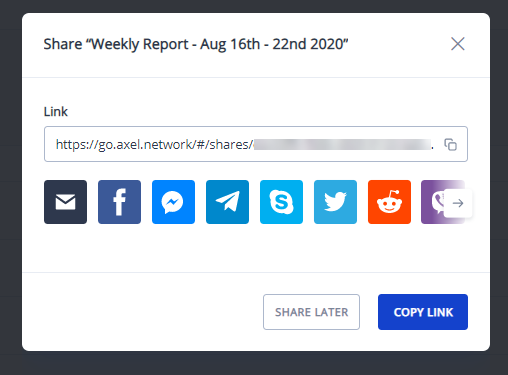 On Desktop app:
Sharing via our Desktop app is even more convenient.
Log into your desktop account, navigate to the file you need to share, right-click on it and select Pin & Share.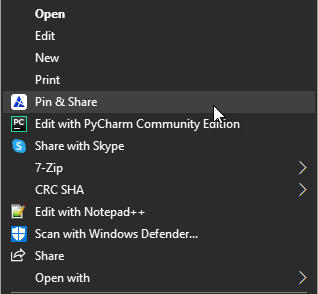 This will open the Share window and you will set all the same options mentioned above.
On Android and iOS
Open the AXEL Go app, log in, and tap on Green + button. Choose whether you want to directly use the Camera to upload a picture or you want to upload files stored on the device.
Using Storage to share files
Your stored files can also be shared at any time. Just use the Online Storage context menu.