End-to-end encryption (E2EE) is intended to prevent data from being read or secretly modified other than by the actual sender and recipient. The sender encrypts the messages, but the third party does not have the means to decrypt them and stores them encrypted. The recipients retrieve the encrypted data and decrypt it themselves. In AXEL Go, End-to-end encryption is provided to collect confidential files from your clients. . In AXEL Go, end-to-end encryption is provided to collect confidential files from your clients.
When you turn ON E2EE you are required to set a passphrase.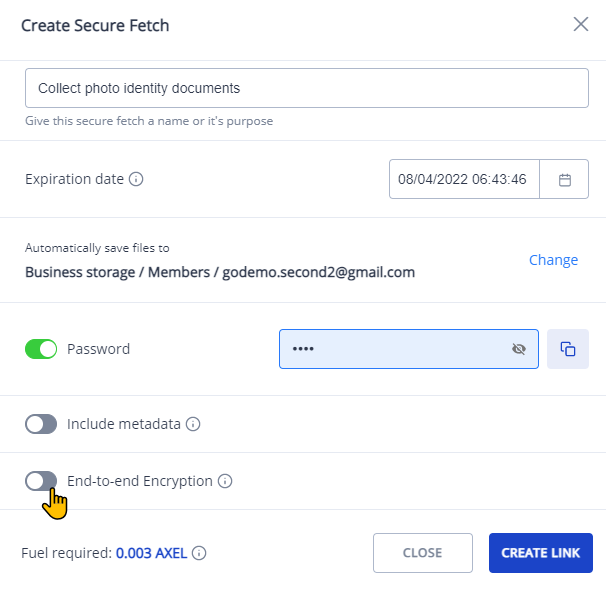 Important note: You cannot turn ON both include metadata and End-to-end Encryption.
Set Passphrase
For your security, AXEL Go does not store your passphrase anywhere. If you forget your passphrase, certain security features that require a passphrase will not work. For example, if you have an end-to-end encrypted file, you will not be able to decrypt the file without your passphrase. And since we don't store your passphrase, there will be no way to retrieve your passphrase. If you forget your passphrase, you must reset and create a new one. However, when your passphrase is reset, end-to-end encrypted files using the old passphrase will no longer be accessible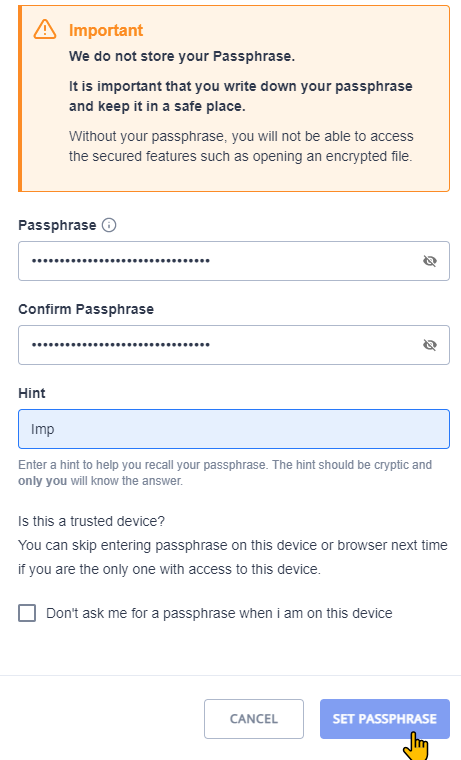 Every time an E2EE encrypted file is downloaded you need to enter the passphrase. If you are sole access to your device and you want to avoid entering a passphrase every time then you can enable the setting – Don't ask me for a passphrase when I am on this device. By enabling you can skip entering passphrase on this device or browser next time if you are the only one with access to this device.
You can change the passphrase from the settings page.

E2EE encrypted files can be easily identified with a secure key icon.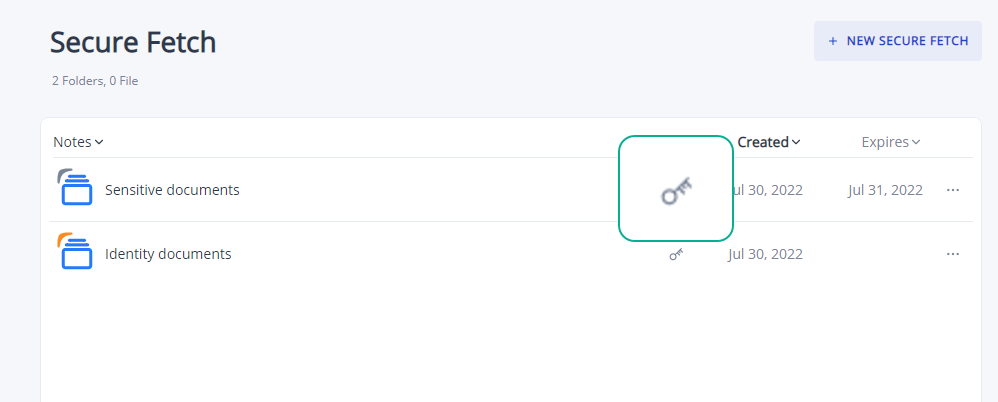 If you want to view the encrypted files. You always need to download single file at a time so the files are decrypted.
Important note: Do not download folders having multiple encrypted files as the downloaded zip files remain encrypted.